How Our Retirement Community Helps Seniors Be Lifelong Learners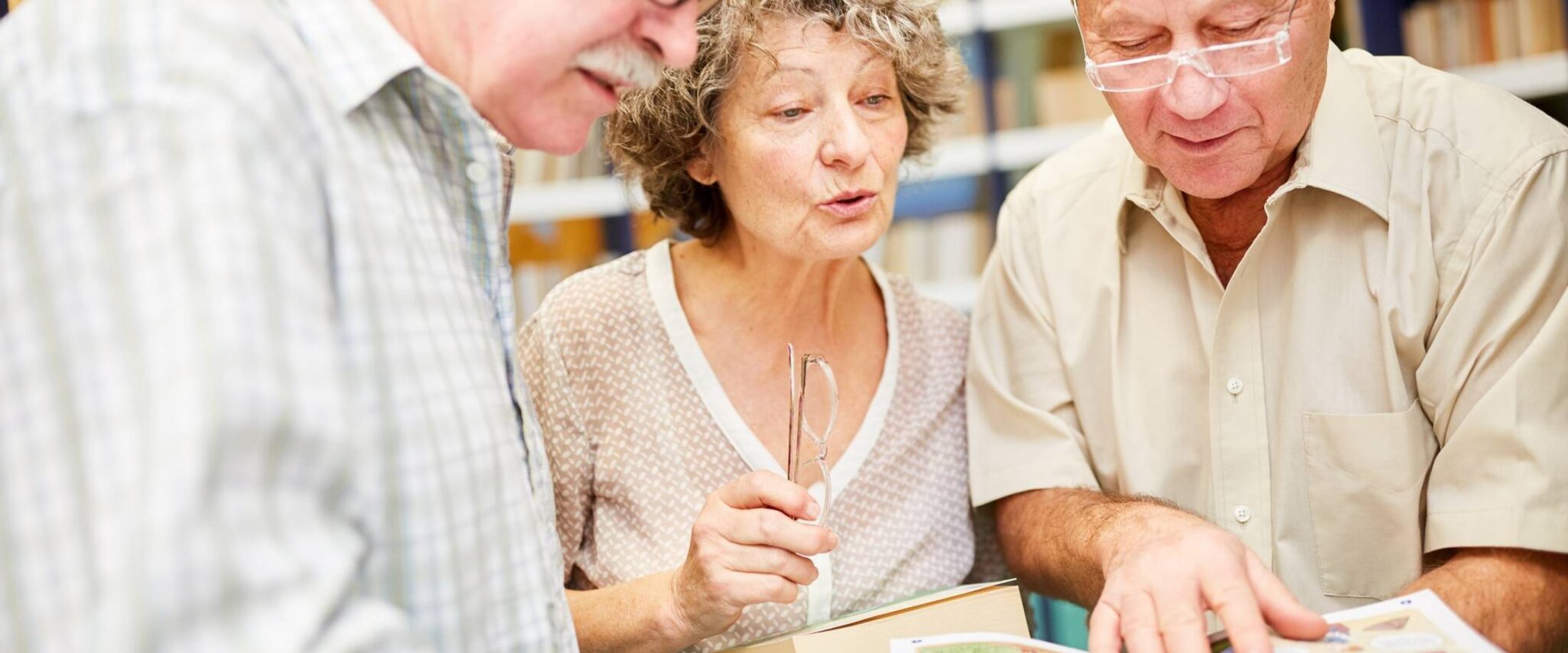 ABCs and 1-2-3s
What did school mean to you? Back in the day, school was a rite of passage. It was about getting an education, learning a trade, or ticking a box so we could move on to the next phase of our life, including starting a career and earning a living. Once we were out in the working world, opportunities to get back into a rigorous classroom setting were limited. These boiled down to mostly skill-related, credit-earning programs, held after working hours, and covering a limited range of subjects. Learning for the mere joy of learning was rare, especially for older adults.
School for Seniors  
All this changed with OLLI (Osher Lifelong Learning Institutes). OLLI is a member-based learning community offering classes, workshops, events and social networking. It's high quality and low cost, giving adults 50+ diverse and world-class lifelong learning activities.
OLLI was launched in 2001 by philanthropist Bernard Osher, who saw the need for noncredit programs for older adults. His foundation kick-started the development of lifelong learning for seniors by partnering with learning institutions across the country. This program has been so successful it's now included in over 100 colleges, including the University of South Florida.
You've Already Earned an A+ at Life
Taking advantage of the free time retirement offers you makes sense. You can pursue further education, but now you can do it on your terms, pursuing subjects you feel passionate about. With OLLI, you're back in school, but you won't be the lone wolf surrounded by youngsters cramming for their undergraduate degree. You'll be among adult learners who share your intellectual curiosity and will be welcomed regardless of the level of your educational attainment. And because these are noncredit classes, there are no exams, and you won't have to worry about grades either.
Study the Mandarin language, delve into the legends of Greek mythology, or learn how to use all the features of your iPhone. Courses are taught by OLLI members, and you'll be encouraged to contribute.
To become an instructor, you'll need to submit a course proposal with how you'd like to share your knowledge of a subject area within the OLLI community.
Why Should You Care About Lifelong Learning?
When you challenge yourself to learn a new skill, you're encouraging different parts of your brain to work together. You strengthen your entire network of neural connections and boost your memory power. Using your brain and keeping it busy may even ward off dementia. Anything that takes you out of your comfort zone — learning a language, operating a computer, etc., will boost your brain's ability to adapt and build new neural networks, improving your resilience to future stress. The mental stimulation of learning can also help manage physical and emotional stress. In a study by the University of Sussex, seniors who read for just six minutes a day reduced their stress levels by 68%, had healthier heart rates, and felt less anxious.
Mastering a new subject area also increases feelings of self-worth and competency. And because learning involves failing and trying again, critical-thinking skills and self-understanding get stronger. These mental behaviors are very helpful for seniors who want to be more active participants in their health care, making informed and healthy choices for a better quality of life.
Here's How We OLLI
Through our partnership with the University of South Florida, Regency Oaks residents are automatic OLLI members, and they can participate in classes, lectures, cultural events, day trips and more. They can choose from over 300 courses a year, ranging from the arts to history to nature, and even enjoy lifestyle courses such as wine appreciation. Here are the categories they cover, and a few examples:
Technology Training: Computers, applications, mobile devices, cameras/photography, and other tech topics
Fitness and Lifestyles: Ballroom dancing, diet and nutrition, bridge, medicine and health care, investing, etc.
Humanities and the Arts: Pop culture, art and music, Broadway performances, museum tours, language classes, etc.
Literature and Writing: Story and poetry discussions, writing for different genres, author profiles, etc.
Politics and Current Events: Foreign policy, American politics, discussion groups, guest speakers
Science and Nature: Medical topics such as human immune systems, birding and aquariums in Tampa Bay, etc.
History: Visual history of mapmaking, America's response to the Holocaust, historical presentations on Afghanistan and Pakistan, etc.
Regency Oaks residents say connecting with others who share their intellectual curiosity and love of learning really expands their social circle. As they bond over topics they find interesting, they form side groups like dining or walking clubs. The classes at OLLI also provide a setting to understand, explore and discuss issues that might be difficult to bring up among friends and family, such as religion or politics.
What if I Don't Like Formal Learning?
If instructor-led classes don't appeal to you, you can still reap the benefits of lifelong learning. There are many other ways to participate in OLLI:
Zoom Talks: A series of virtual Friday lectures brings in speakers who address issues, tell stories and share information. These informal lectures are available on Zoom and free to OLLI members and their guests.
Interest Groups: Shared interest groups (SIGS) connect members around a shared interest. French and German speakers, food lovers, gamers, shutterbugs, opera buffs, budding poets, movie enthusiasts — there's a group for almost every interest.
Day Trips: Members tour places such as the Raymond James Stadium, International Independent Showmen's Museum, and the Port Tampa Bay cargo port, for an inside look at what they're all about.
Retirement Planning: Classes led by qualified professionals providing up-to-date information and impartial advice.
The Regency Oaks Advantage
As a Regency Oaks resident with an OLLI in your backyard, you'll have a strong advantage when it comes to aging gracefully and well. Lifelong learning will keep you feeling young, give you opportunities to socialize, and help you stay healthier and happier. And most of all — it's fun!
Join our community of vibrant older adults who want to keep learning and growing at every age. Call us at 727-330-2142 to find out more about the lifestyle and activities at Regency Oaks.