The Best Fitness Trackers for Seniors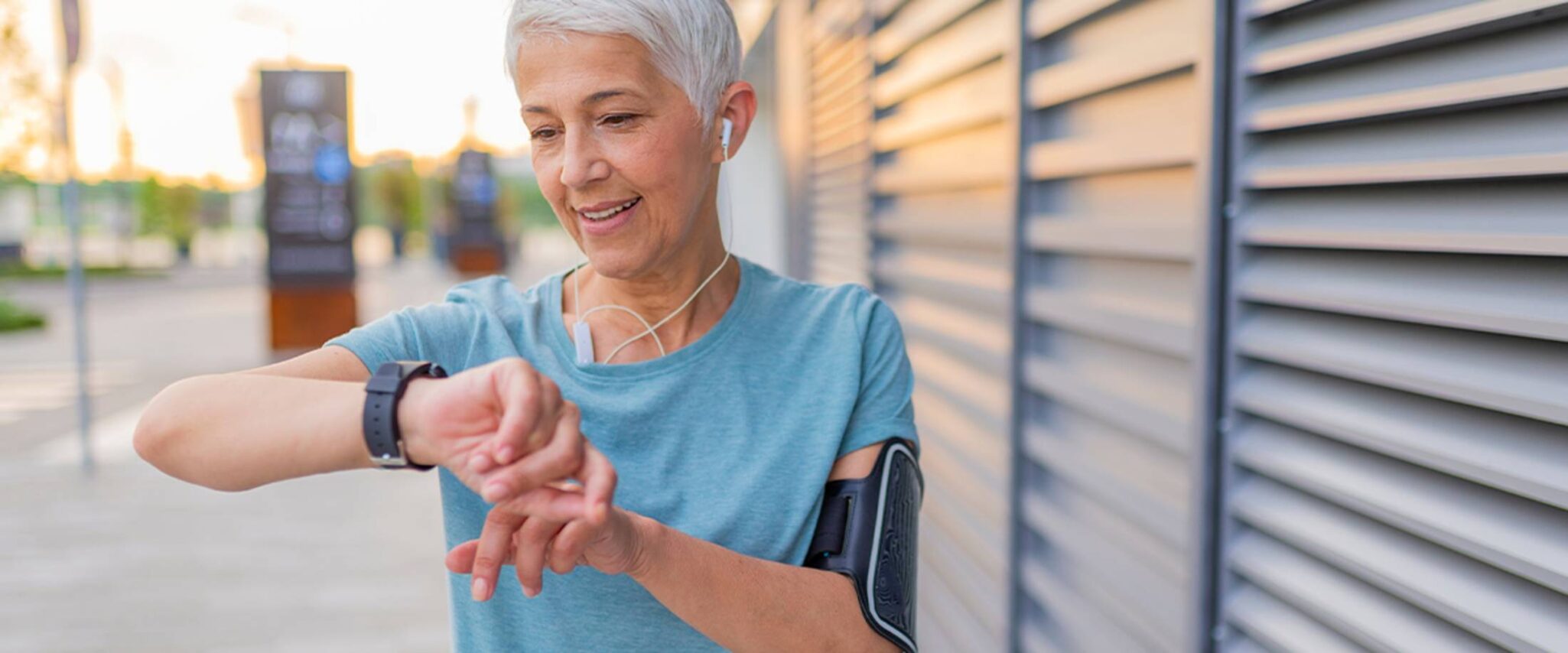 According to a Gallup poll, 1 in 5 American adults use a wearable fitness tracker such as a bracelet or smartwatch to track their health statistics. The majority of users say they find wearables very helpful in reaching their health goals, and 13% of women 50+ and 10% of men 50+ are currently using them. We weren't able to find any specifically designed fitness trackers for seniors, so here's what to look for if you're thinking about getting one for yourself or as a gift:
Functionality: If you only want to measure the number of steps you take during a day, you may not need a device with a lot of features.
Readability: Small screens are hard to read. The display screen should be large and well lit.
Reliability: Look for a tracker with a long battery life that doesn't need to be charged every day.
Usability: Whether it's a band, bracelet or a classic watch design, it should fit comfortably on your wrist or in your hand. Controls should be well designed and intuitive to use.
Security: Most fitness trackers work in conjunction with a smartphone. They capture data that's stored on your phone and can be downloaded over the internet. Check the brand you're considering for how it handles your personal information and privacy.
Impermeability: Water- and sweat-resistant bands are more practical. You won't have to take your device off for a shower or worry if you are caught in the rain or spill something.
Why Wear an Activity Tracker?
A good fitness tracker is a versatile and convenient way to measure steps or calories burned, monitor heart rate and sleep quality, and encourage you to get off the couch. It's just easier to see your bad habits and introduce healthier ones into your daily routine. If you work with a trainer or nutritionist, you can share the data with them so they can better tailor your program and achieve your goals more efficiently. Wearing a fitness tracker will help you:
Stay Accountable — With instant feedback on your progress, you're accountable to yourself for reaching your daily goals and motivated to stick with what you're doing.
Set Goals — Whether it's monitoring your daily steps or training for a full marathon, wearables allow you to program a range of basic or advanced goals that you want to achieve.
Monitor Sleep — How do you monitor your sleep when you're … asleep? A good night's sleep is crucial to your physical and mental health. A fitness tracker can add consistency, reminding you when it's time to start your bedtime routine, tally how many times you wake up, and rouse you in the morning.
Push Yourself — It can be easy to fall into a rut. Fitness trackers have a group dynamic where people with the same brand can see how they're doing against others. Knowing others can see what you're doing challenges you to keep up.
Be Mindful — Whatever your goal is: heart health, diabetes control, weight loss — checking in on it throughout the day helps you pay attention to yourself. You become more aware of what you are doing and whether you need to make a course correction as you navigate your health journey.We've put together a list of our favorite fitness trackers for seniors, from basic pedometers to mid-range fitness bracelets, all the way to high-end models with many features. (Prices are approximations and to help with comparisons only.)
SIMPLER AND FEWER FEATURES
Ozo Digital Pedometer: This fitness tracker doesn't require a smartphone. It's a pedometer that only counts steps but is thin enough to carry in a pocket or wear on a lanyard. It has a large display, with no setup. and it's easy to use. $20
Letsfit Fitness Band: A fitness bracelet with a watch, step counter, heart rate monitor and calorie counter. The tracker counts your daily steps, vibrates when you've reached your target, and resets to zero steps at midnight. It requires you to install an app and set it up using your smartphone. $20
LETSCOM Fitness Tracker: A inexpensive, entry-level device with all the standard features, including a heart rate monitor, sleep tracking, step counting and sport modes. $23
Withings Move: This activity tracker looks like a classic watch with a dial. It tracks your activity and sleep on the watch dial with a third hand. It connects to your smartphone with a free app so you can view your progress and track your goals. $70
Garmin Vivofit: An intelligent fitness bracelet that records your pace, distance, calories and heart rate when a chest strap is worn. It automatically sets small achievable goals for you and has a sensor that detects if you stay too long without movement. $77
Fitbit Inspire: Streamlined and functional, this is an entry-level tracker that though it has fewer advanced features, is still sleek and simple to use. It has a smaller screen than the Charge 3. $110
MORE ADVANCED, WITH MORE FEATURES
Amazfit Bip: With a mid-range price, this slim smartwatch provides standard features plus 24/7 heart rate monitoring, and built-in GPS route and distance in real-time. It can also receive notifications for texts, emails and calls. $65
Withings Pulse HR: This fitness band tracks your activity and training and can monitor your heart rate as well. It connects to GPS and your smart watch, allowing you to map a run or receive emails and text notifications. $100
Garmin Forerunner: An easy-to-use, no-fuss choice suitable for seniors who walk and/or run to stay fit. It features a large display with a built-in GPS to track your route, pace, and step-count in real time. There are several versions of the Forerunner with different touchscreens and color displays. $104
Fitbit Charge 3: All the advanced functionality you would want in a tracker but in a slim watch that's easy to use. It records a wide range of activities such as calorie burn, heart rate, sleep, exercise and more. It has a responsive touch screen, well-designed menus, and is simple to use. $125
Amazfit GTS: This model looks like a classic watch but comes with a heart rate monitor, music control, blue-tooth connectivity and smart notifications. $149
FitBit Zip: An easy-to-use fitness tracker, this advanced pedometer attaches to a clip or a lanyard. It tracks steps, distance and calories burned, allowing you to set goals, view your progress and earn badges, as well as compete with friends throughout the day. It syncs automatically to your computer or smartphone. $184
Fitbit Versa: If you're looking for a fitness tracker with a large font, the Versa does everything the Charge 3 can do and more. It has a larger touch screen, a color display, and the ability to store 300+ songs. An on-screen coach helps you through short daily workouts, and it can also sync with your phone for text, email and calls. $192
TOP OF THE LINE AND FULLY LOADED
Fitbit Ionic: Has the most features of all Fitbit models, including built-in GPS to track your pace, distance and heart rates. It allows you to access apps for sports, weather and news, and claims to have the largest and most durable screen in the industry. $194
Withings Hybrid Smartwatch: The look of a classic watch but all the functionality of an activity tracker. It keeps track of steps, heart rate and sleep, and receives notifications via a digital screen embedded on the dial. $200
Garmin Vivoactive 4 Music: For the fitness enthusiast, this top-of-the-line model has all the standard features plus others that keep in-depth records of all your workouts. It offers preloaded GPS and indoor sports apps, oxygen monitoring, the ability to store and listen to music, and a feature that helps you monitor your stress levels. $280
What's the best way to use a fitness tracker?
Once you find one that's comfortable on your wrist, fits your budget and does what you want it to, what next? Here's how to stay fit and get the most out of your new device:
Wear it consistently.
Start with small, achievable goals.
Check your numbers daily.
Increase your goals with each success.
Find friends who use trackers like yours.
Set up weekly competitions and challenges.
Share your story so you're visibly accountable.
If you ever thought it would be a lot easier to stay fit if you lived right next to your gym, had free access to fitness classes, and beautiful walking paths right outside your front door — that's exactly what you get when you live at Regency Oaks. Get your fitness gear on and come take a look!