What Are the Challenges of Aging in Place?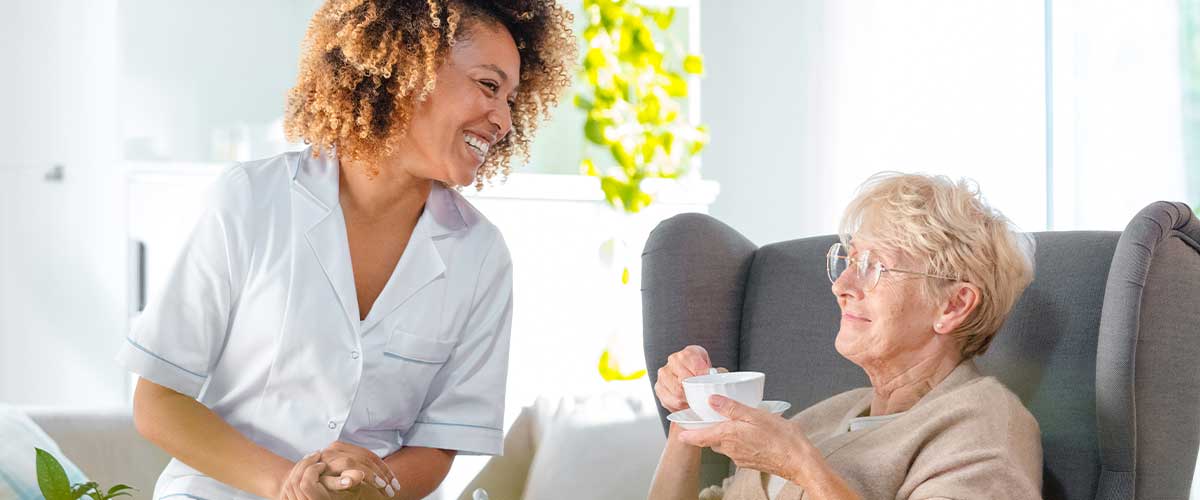 Are you thinking about aging in place at home?
Aging issues and challenges to take into consideration
Aging is something that happens to all of us, so it's important to consider where you'd like to live as you age. Not surprisingly, according to AARP, most older adults express a strong desire to remain in their own homes. After all, it's what they know. But it's important to consider the aging issues and challenges you may face while remaining in your home.
 
What does aging in place mean?
Aging in place simply means remaining in one place as you age — whether that's your home or a senior living community. Many people consider remaining in their homes a hallmark of independence. However, aging in place at home also poses its own unique set of problems associated with aging and can result in diminished quality of life. Read on to learn about factors to consider when deciding where you'll live as you age.
Challenges associated with aging in place in your home
While there are personal advantages to remaining in your home, the problems associated with aging — from the loss of physical abilities and mobility, social isolation and cognitive decline — can make it difficult to do so safely without significant modifications to your home or even in-home health care. Let's take a closer look at some of the challenges older adults often face when aging in place in their homes.
 
Physical and cognitive challenges
The ability to move freely is central to an individual's independence, but what happens when your mobility becomes limited? According to the U.S. Census Bureau, 40% of all individuals over age 65 have at least one disability, and two-thirds reported difficulty walking or climbing. Many people also develop hearing loss, vision changes, or cognitive difficulties that challenge their ability to perform daily tasks such as bathing, dressing, cooking, eating or remembering to take medications. Driving may become dangerous, and performing home maintenance and lawn care chores can become physically impossible.
Research by Harvard University's Joint Center for Housing Studies shows that "Most U.S. homes are not accessible for older people with limited mobility." While assistive modifications and systems can be put in place, they can be expensive and difficult to implement. And while you may consider hiring help to assist you in remaining in your home — from housekeeping and lawn care services to in-home aides or home health care — as more and more services and assistance are needed, the costs can really add up.
 
Social Isolation
The loss of mobility or the inability to drive safely can make it difficult to leave your home. While social isolation can develop slowly over time and go unnoticed even by close family members, it can have a significant impact on your quality of life. According to the National Institute on Aging, loneliness can cause mental health issues such as anxiety, depression, cognitive decline, and even Alzheimer's disease or other forms of dementia. It can also worsen or bring on physical ailments such as high blood pressure, obesity, heart disease and a weakened immune system.
In-Home Care
As we age, our health and personal needs will change, eventually making some form of care a necessity. People who choose to age in place generally have two options to meet their care needs: informal care and formal care.
Informal care is usually a family caregiver who often has to balance the responsibility of caring for their loved one with work and family responsibilities. The personal and financial costs to family caregivers can be steep. While caregivers often report feeling satisfaction and fulfillment in caring for an aging loved one, they're also prone to burnout and experience high levels of stress and negative emotions. In addition, the MetLife Study of Caregiving Costs to Working Caregivers published by the MetLife Mature Market Institute in 2011, found that the average aggregate of lost wages, pension and Social Security benefits for working caregivers caring for an aging parent is more than $300,000.
Formal care, on the other hand, is usually a trained caregiver or skilled nurse who is paid to attend to the individual's health and social needs. While formal caregivers can be a great option, they're also expensive. In 2017, the Harvard University's Joint Center for Housing Studies stated that, "The median monthly cost for a home health aide working five days per week is $3,813." When combined with the other forms of assistance, a senior may need to remain at home, the costs can become untenable. 
 
How Can Senior Living Communities Solve These Issues?
Life Plan Communities like Regency Oaks are custom-made for people who want to maintain their independence as they age. Every aspect of these communities is designed to support your independence with a vibrant lifestyle that includes a vast array of social, recreational and educational opportunities, resort-style amenities, and thoughtful services that make every day easier and more convenient.
You'll benefit from residences specifically designed to meet the needs of senior adults and the peace of mind that comes with knowing personalized assistance and health care services are available right on campus, should you ever need them.
Social isolation will be a distant memory as you become an integral part of an active community with abundant opportunities to make new friends and enjoy social gatherings, classes, clubs, daytrips and more. You won't even have to drive to medical appointments or stores, because you'll have scheduled transportation available to take you where you need to go.
Meals will become a time to relax and enjoy the company of friends as you hand off the cooking, serving and cleanup to a chef and a well-trained culinary staff. You'll say goodbye to household chores, home maintenance and lawn care  responsibilities, since all these will be taken care of by the community's capable staff. And Life Plan Communities help simplify your budgeting and bill paying, since one all-inclusive monthly fee covers your residence, utilities, property taxes, services, amenities, meal plan and more.
In short, Life Plan Communities provide support for independence and specialized assistance that are expertly intertwined to create a community in which you'll thrive and continue living to your highest potential. 
Get to know Regency Oaks, a Life Plan Community where the retirement life you love gets even better. Simply call us at 727-330-2142 to learn more. We'd love to answer all your questions.