The 2020 Holiday Gift Guide for Seniors Who Love to Garden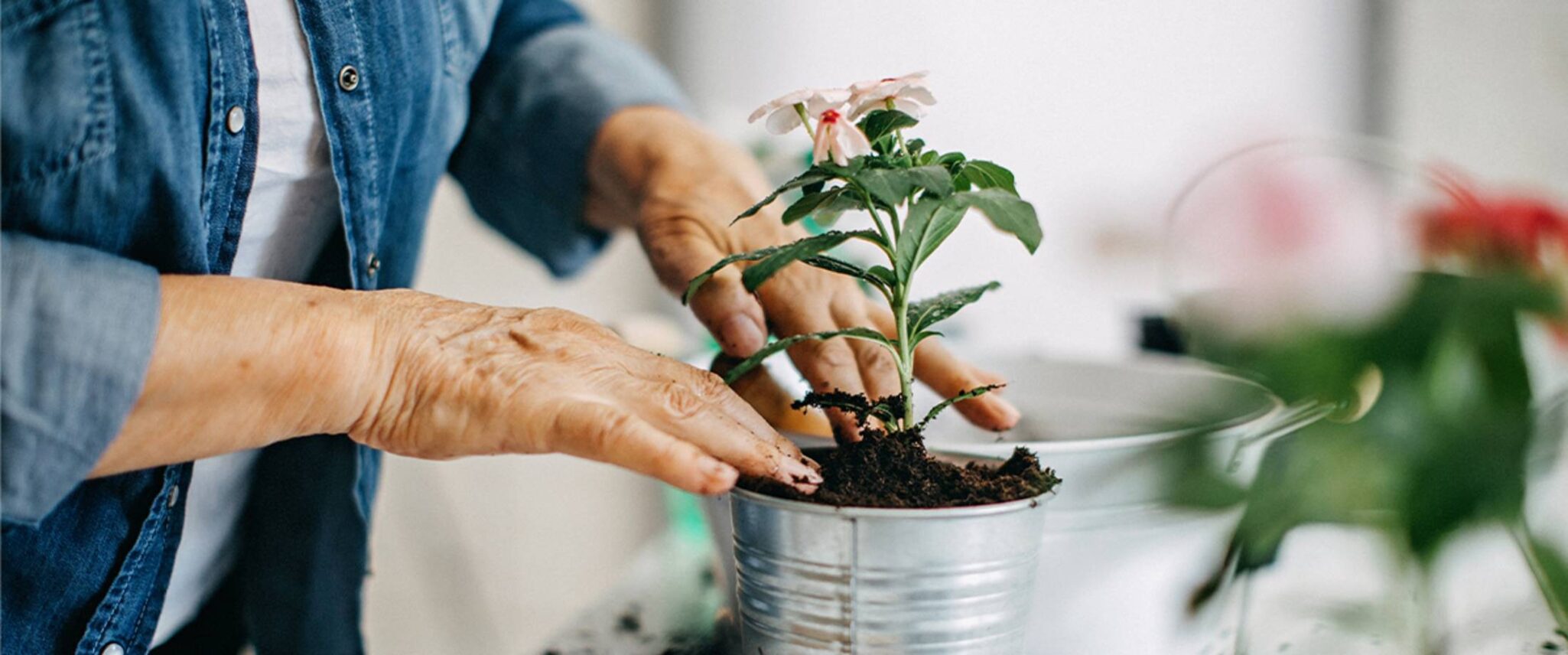 Whether you're shopping for an older family member or a friend, we have the best holiday gift ideas for the senior gardeners on your list. We've rounded up suggestions ranging from easier gardening for seniors with arthritis, to maintenance-free indoor houseplants, to fun decor for a patio garden. Read on and take inspiration!
Easier Gardening for Seniors
Older gardeners may have limited hand strength due to arthritis, but that's no reason for them to give up their wonderfully rewarding hobby. Do some digging (there's a gardening pun for you!) and you'll find several major gardening companies offer adaptive gardening tools that alleviate strain on hands and wrists. They're ergonomically designed and look very much like conventional tools for planting, watering, weeding and pruning. However, they are usually made of lightweight aluminum that's not as tiring to carry around or use. They also feature other innovations such as ergonomic gearing mechanisms, low-friction coatings, and sharp precision blades to make cutting easier.
Seven Adaptive Holiday Gifts
1. Loppers, pruners and shears with longer curved or contoured handles will keep hands and wrists in a neutral, stress-free position; increase leverage; and reduce the need for excessive bending and stretching.
2. Lightweight fabric hose that uncoils and lengthens when water runs through it won't get tangled, and it rebounds to its original length when drained. It takes less space to store too.
3. An adaptive watering wand is a great gardening tool for seniors. It's easy to attach to a hose and allows the user to control the water flow with a thumb, rather than by twisting a nozzle or squeezing a trigger. A longer-length wand makes it easier to reach hanging baskets or to reach the back of a planting bed. Some wand nozzles convert into a sprinkler so the user doesn't have to stand over one spot for a long time.
4. Slip-on knee pads or a garden kneeling cushion makes it more comfortable to do close work such as pruning or removing pests. Look for high-density foam that is shock absorbent and waterproof.
5. A lightweight folding garden seat is a practical gift idea for seniors who need to sit while gardening. Some models double as a chair and, when flipped over, a kneeling pad. They feature a steel frame that's locked into place for getting up from a kneeling position. Some garden seats are designed with wheels so users can roll to their next stop.
6. Among the most innovative gardening tools for seniors is an upright weeder that allows the user to tackle pesky weeds from a standing position. Weeds are removed by stepping on a plunger that grabs them by the root and ejects them.
7. Rose lovers will appreciate long, gauntlet-style gloves that offer extra protection from being pricked by thorns while pruning. Look for a durable material that allows hands to stay ventilated, and gloves padded on the palm, thumb and fingers to reduce fatigue.
10 Gift Ideas for Outdoor or Patio Gardens
Garden art such as planters in creative shapes or ones made from recycled  material.
Sculptures on stakes that add height and visual interest wherever they're needed.
Customizable plant markers that can be written on with chalk.
A signpost with the names of family members.
Colorful spinners or mobiles to reflect and catch the light.
Wind chimes to add pleasant sounds with a breeze.
A birdhouse or bird-friendly fountain.
A butterfly puddler to entice butterflies to stop for a drink.
Seedling starter. Some come with seeds provided.
Solar-powered garden lights. These could be string lights for a patio.
10 Holiday Gifts for Indoor Gardeners
1. A glass cloche and base for sensitive indoor plants that need more humidity.
2. A tabletop portable potting tray for repotting houseplants. It keeps soil contained and is easy to clean up. Plus, there's no need to haul heavy plants around since they can easily be repotted where they stand.
3. Miniature garden tool kit. Outdoor gardening tools can be too big for houseplants. Look for miniature versions but be mindful that they need to be easy for a senior to use.
4. Soil moisture gauge. Some meters use an electronic probe while others rely on a ceramic tip to sense moisture. All show exactly when it's time to water a plant.
5. Indoor humidity and temperature monitor. Some plants do better in drier conditions, and others thrive in humidity. A monitor allows indoor gardeners to check temperature and indoor humidity when needed.
6. Gnat barrier top dressing — Fungus gnats breed in the top layer of houseplant soil and can be very annoying to those living in an apartment. This soil dressing looks natural and gets rid of gnats in the soil.
7. Watering stakes. These watering devices keep plants hydrated. They usually are clear or translucent so it's easy to see when they need to be refilled.
8. Indoor growing kits. Look for tabletop kits to cultivate mushrooms, herbs or bulbs indoors
9. Tiered plant stand. A decorative plant stand can mass different plants together for a lush look.
10. Glass terrarium. Terrariums are low-maintenance gardens that can be enclosed for high-humidity plants like ferns and mosses or kept open for cacti and succulents. Gardening gifts for seniors don't always have to be practical. A framed print of their favorite plant, a garden-themed puzzle, or a necklace or cufflinks featuring their birth flower would certainly be appreciated too.
Seniors can "bloom where they're planted" at Regency Oaks. Every residence features a spacious screened-in porch with lots of natural sunlight for favorite plants. Our nature-loving community offers gardening enthusiasts community planting beds for flowers and vegetables. It's everything a senior with a green thumb would love. Explore our independent living options and start imagining your green space here in sunny Clearwater, Florida.