Watercolor Painting for Beginners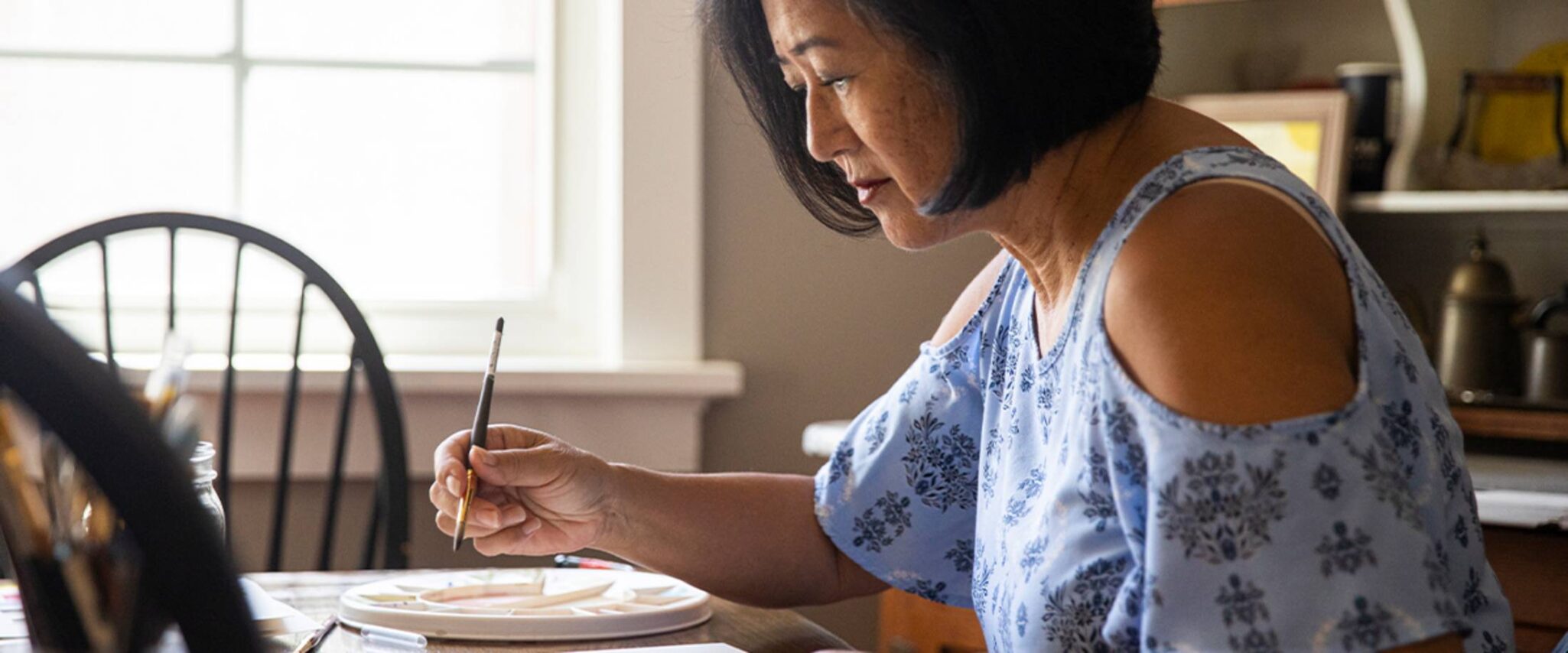 After years spent raising a family and working, retirement gives many seniors an opportunity to pursue other goals and creative outlets. One of the hobby ideas that's relatively easy to start and doesn't require a lot of materials is watercolor painting. If you've never explored the creative arts or touched a brush before, this blog post will cover the benefits of tapping into your artistic side and discuss how to get set up. We'll even provide resources for watercolor painting for beginners, including how to paint. 
The benefit of creative hobbies for seniors.
Research has found that picking up a creative hobby, such as painting, can offer a wide range of benefits, including:
Helping you relax
Providing a sense of control
Reducing depression and anxiety
Assisting in socialization
Encouraging playfulness and a sense of humor
Improving cognition
Offering sensory stimulation
Fostering a stronger sense of identity
Increasing self-esteem
Nurturing spirituality
Reducing boredom
A range of studies have also concluded that participants in a variety of arts groups also:
Used less medication
Had fewer doctor visits
Experienced elevated mood
Did better on scales for depression, loneliness and morale
Getting started with watercolor painting.
Luckily, you don't need much to start painting. The basics include a brush, watercolor paper and a few paints. 
Brush: A watercolor brush is specifically designed with a pointed tip for accuracy and to hold water. The best type of watercolor brushes are made of natural hair, but they can be expensive. An affordable alternative is a mix of natural and synthetic bristles. Look for a medium-sized round brush, as they're the most versatile and allow for a wide range of brushstrokes. If your brush is too small, you'll waste a lot of time picking up paint, and it will limit your brushwork. A number 8 is a good size for starting out.
Paper: Watercolor paper is a necessity, because any other kind of paper won't handle the wet paint very well. High-quality 100% cotton paper can be pricey. Just make sure the paper is reasonably thick. A good minimum weight is 140 lb. / 300 gsm. 
Paints: Once you have your brush and paper, you'll need some paints. You don't need a huge range of colors to get great results. While color theory teaches that you can mix any color from just yellow, red and blue, in reality you need more. But not much more. With a warm and cool yellow, a warm and cool blue, and a warm and cool red you create a wide variety of hues.
Your watercolor setup.
For watercolor painting for beginners, it's important to know how to get started:  
Two jars of water: You'll want one for rinsing your brush, and one with clean water for mixing your colors. 
Mixing palette: Some watercolor box sets have built-in palettes. Otherwise you can just use a white plate (white is best because otherwise you can't accurately discern the colors). 
Paint mixing: Begin by getting your brush nice and wet so that it soaks up plenty of water. Then press it against your mixing palette to release a puddle of water. If your paint is in a tube, squeeze some paint onto the palette. Now stroke your moist brush across the paint to load it with pigment and gently mix the pigment into the puddle of water. Mix well to create a smooth blend. You can test the strength of your color on a spare sheet of paper. If it's too strong, add more water. If it's too light, add more pigment. Note: When watercolor paint dries lighter than it looks when it's wet. Try to get a medium strength mixture, not too dark and not too light.
Start painting: Here's an internet resource on how to paint with watercolors that has step-by-step instructions on five different brush techniques. Of course, you can always just experiment on your own and see what works for you.
Make your retirement a masterpiece.
At Regency Oaks, you'll find a friendly community of residents and staff to help you continue to develop your creative side. Our maintenance-free lifestyle gives you more freedom to indulge your favorite pastime or learn a new hobby — like watercoloring — in one of our arts and crafts classes. If you'd like to know more, call us at 727-330-2142.